Complete Root Canal Treatment in South Tampa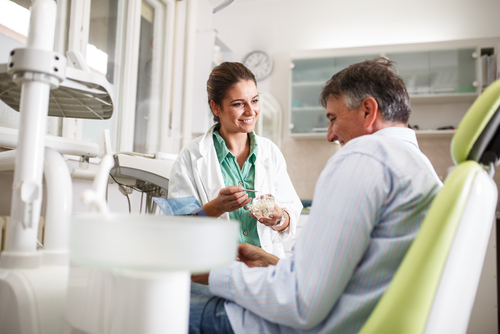 Root canal therapy often receives a bad reputation as one of the worst dental procedures to undergo. South Tampa Smiles is making sure that reputation gets turned around one patient at a time. Root canal treatment is also known as endodontic therapy and is a necessary procedure performed by the dentist in order to save a tooth that has become infected. If left untreated, the infected tooth will not heal and you run the risk of losing the tooth or potentially having the infection spread. If an infection is left to spread, it can cause serious illness and in rare cases even become fatal. We stress the importance of seeking help and the initial signs of infection.
Root Canal Anatomy & Procedure
Underneath the enamel of the tooth there is dentin, which protects the softer layer of pulp underneath it. The pulp contains a collection of important blood vessels and is home to the nerve of the tooth. Infection of the pulp and blood vessels can be caused by anything from chipped and broken teeth that cause inflammation and kill the nerves. This inflammation can lead to an abscess and you'll need to undergo root canal therapy. This is a common procedure that can be completed in as little as one or two visits.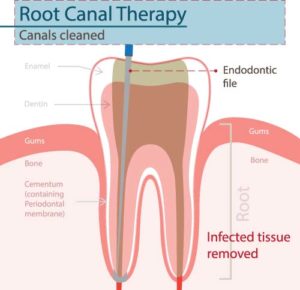 During a root canal procedure, the infected pulp is carefully removed and the inside of the tooth is cleaned and disinfected. Once the inside of the tooth is cleaned, it is then filled and sealed with a rubber-like material. A crown is then placed over the tooth for protection. After a root canal procedure, the tooth continues to function normally and can last as long as your natural teeth. Visit AAE.org for a step-by-step video explaining the procedure in higher detail.
The staff at South Tampa Smiles is ready to handle the most complex situations and ensure that all of our patients receive the highest quality care. We can make sure your experience is virtually pain-free and will do our best to remove any stress or worry that you might have associated with dental offices. We offer sedation dentistry to help alleviate any fears that may arise from undergoing root canal therapy and all other dental procedures provided at our office.  Contact us immediately if you are experiencing pain or have a tooth that might need root canal therapy!